Introducing The Nomad.
When we smoke we celebrate, we unwind and we relax, we take a minute to truly calm ourselves down or maybe to create and be inspired. Whatever your reason for smoking I am sure you have a method or accessory you prefer when trying to smoke. But what would happen if you experimented with a new accessory, a different way to consume the same product? What if that accessory not only gave you one way but 4 different ways to smoke? In 2020 something like that is possible its called The Nomad.
The Nomad By Kromedome was designed to bring convenience to the smoker in almost every way possible. With just 5 clicks the piece turns on, to take a hit just hold the button down and release when done. This 4 in 1 device allows the smoker to go from cartridges, an enail, a nectar collector and cartridge to rig adaption. No matter what way you to choose to smoke The Nomad can not only be a versatile device any cannabis smoker would dream of having but it can also open a smoker up to different ways of enjoying their product. In this post we will take a look at the 4 different functions and see what they offer the smoker as it comes to use of material and convenience.
Enail
The Nomad brings that ease of an Enail to the palm of your hand. You can control the temperature setting in the piece by clicking the button 3 times to change between temps. This gives the smoker more control over the temperature when hitting the rig. The best part about taking a rip off the nomad is the fact that the dabs stay inside the nomad, Vapor is the only thing pushed through the electronic hardware and this feeds into the down-stem and up to the mouth piece. Allowing for no material or crude to fly though into those hard to clean pieces. No butane! A lot of smokers sometimes get tired or paranoid of a torch and the enail delivers the convenience of monitored temperature with just the click and hold of a button. Expect smooth and flavorful hits when using this piece, and with the air flow valve on the side you never have to remove the piece to clear it.
Cartridge to Rig
Honestly my favorite part of this piece is the ability to take the enail attachment off and screw in any 510 thread cartridge and hit that as well. Now for most people we are used to hitting a cart off a pen that allows for heat variables and it delivers big clouds and heavy hits. But the smoke on the throat can be harsh. The nomad takes the Cartridge and delivers a clean rip through the water chamber of your rig. Imagine hitting your vape and getting the true flavor and the most mellow feeling on the throat. This also gives you even more things to smoke with your rig, so investing in a cool, expensive or complex rig might be a great option when something like the Nomad leaves no residue inside your piece makes the hit silky.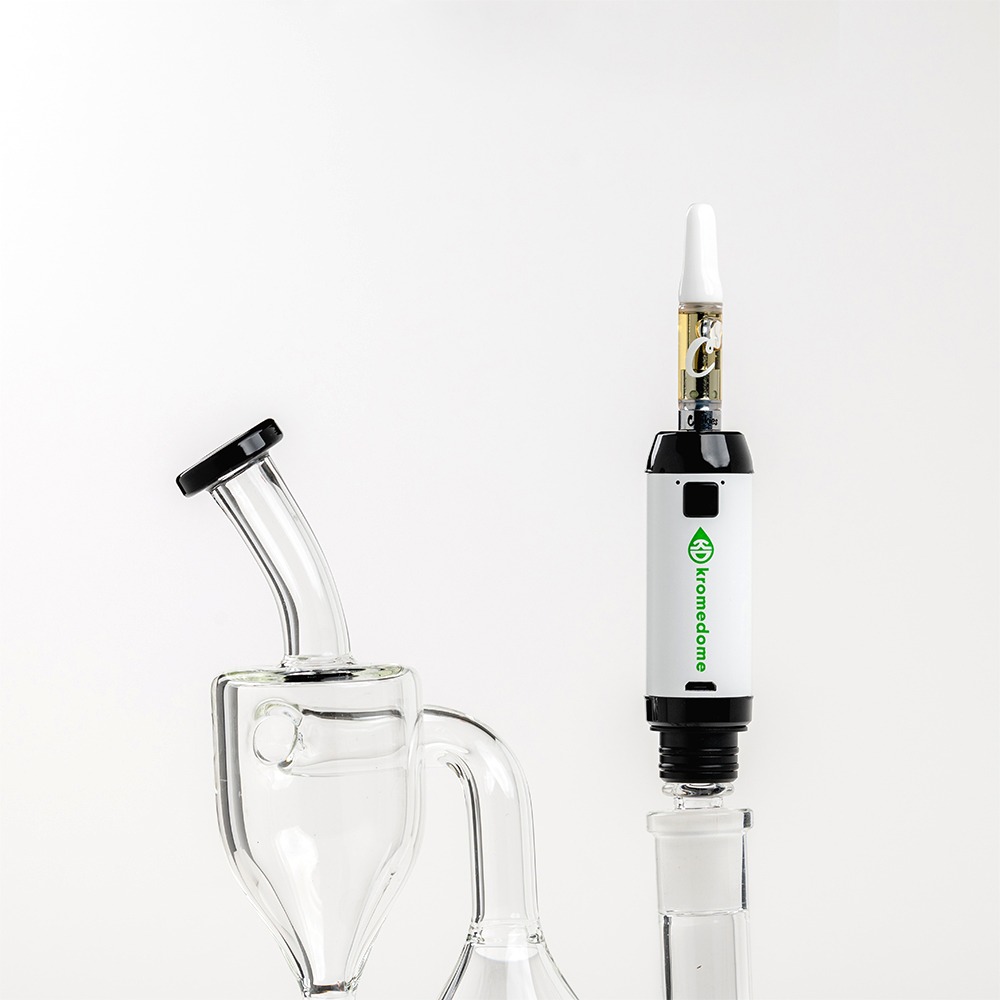 Cartridge
The Cartridge to rig feature is amazing, but like most people who love vaping, the whole point is to smoke on the go. Just like you can attach an Enail or a cart, you can also detach the bottom piece and just use it as a battery that can change between three different heat modes. I have never taken better hits with other battery packs, and I believe its the air flow valve that really sets this piece apart. Just like if you were smoking a bowl and you placed your finger on the carb hole, to then let go and allow excess air clear the chamber of vapor. Plus the battery is a thicker and sturdier pack. The feel overall fits better in my hand given the shape and size, and that thicker battery feels less likely to fall out of my hand or pocket.
Nectar Collector
Kromedome has always been a big fan and producer of their beloved Nectar Collector The Dart 2.0. The Nomad is not necessarily replacing that product, rather it is adding to the versatility of having your own piece to enjoy Dabs with it. The nectar collector included with the set has a water based chamber which gives you easier hits much like The Dart. Once you get it turned on you simply hold the button and take a hit. It does a really great job not wasting product and delivers smooth hits.
What comes in the set?
Kromedome not only gives you the battery pack and adapters/mouth pieces for all 4 functions. It also comes with an amazing zip-up case that is padded and fitted to keep the electronic and glass parts safe and secure. It also comes with a charging cable, extra bands and fittings and cleaning q-tips/swabs for features like the enail or nectar collector that might gather more material after some time. The case is large enough to hold onto products like wax or carts. I love that because the case is really great quality so being able to hold stuff just adds to it.
Overall opinion
The Nomad is something straight out of the future and is easily one of the best products Kromedome has put out today. The smokers best interests are being thought of in this piece and when you use it, you can tell no detail was spared or discounted. Electronic products sometimes compared to more traditional dab rig set ups can often times be a more wasteful of material and ruin overall flavor, but The Nomad keeps it true. The overall package that is delivered with this piece is beautiful and carries so much, which is great if you like to change up your strains throughout the day. I think that any smoker looking to gift themself or someone else a smoking device this holiday season or to just treat themselves will find this is an incredible deal and product.