Chicago is home to a thriving cannabis culture, where you can go on special luxury tours across the Windy City to learn about the history, production, and culture of cannabis. Many states and cities across America have decriminalized the use of cannabis and related products known as edibles or concentrates. (Oils, creams) Adults over the age of 21 can enjoy purchasing cannabis from licensed commercial dealers.
Iconic Kromedome Glass and Electronic Brand
Chicago is home to the iconic Kromedome Glass and Electronic Brand that was featured in Hightimesmagazine. With a range of stylish and elegant glass and electronic lifestyleproducts for cannabis consumption, the company is also known for its philanthropy. Kromedome donates 10% of its profits to the American Cancer Society, an organization dedicated to cancer research and prevention.
Kromedome glass and electronic products are designed with style in mind, as well as offer advanced tech features to enhance your experience. The Kromedome Nomad is a product like no other! This revolutionary device lives up to its name by offering some of the most versatile features on the market. (Portable enail, nectar collector, cartridge battery, and a unique cartridge to rig functionality)
Kromedome Newest Release – The Nomad 
Low Profile & Efficient Design
Kromedome understands that people want a more private, inconspicuous method to enjoy concentrates. Their glass pieces are sleek and stylish, allowing them to blend easily into your home or apartment. The portable, compact design makes consumption easy, on the go. Kromedome is all about efficiency and waste reduction when creating their products – Electronic Nectar Collectors and Enails provide clean burns with minimal waste.
Their products are available online and at licensed stores.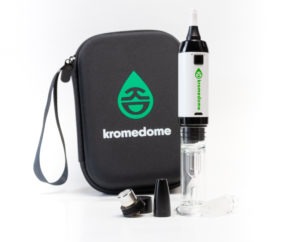 Chi High, Chicago's Finest Cannabis Tours
Enjoy the sights and explore the city in luxury and comfort aboard Chi High's state-of-the-art fleet of Mercedes-Benz tour vans. They have a selection of guided tours available- where you can not only take in the city landmarks, stop for photo's and learn about Chicago's history but also about its cannabis culture. 
From the Penninsula Hotel, you will meet your tour guide and group and learn the essentials of modern cannabis use and consumption. The tour stops off at The Herbal Care Center dispensary where you can shop for cannabis and another stop or two for essential accessories. 
The Jazz Culture & Cannabis Tour
With this tour, Chi Hight aims to immerse guests in the cultural richness of historical Bronzeville and Hyde Park via cannabis education and jazz music. Whether you're an avid cannabis user or just interested in learning more about the culture of cannabis, the Jazz Culture and Cannabis Tour is a great choice for just about everyone.
The Beer, Bud & Bites Tour
The Chi High Beer, Bud & Bites tour is a brilliant, fun-filled expression of Chicago's unique character. Here you will go behind the scenes and meet world-renowned craft beer brewers along with cannabis chefs and expand your knowledge of non-smokable forms of cannabis — like edibles!
Coming soon: Comedy and Cannabis Tour ( Enjoy rubbing shoulders with Chicago's finest entertainers and comedians.)
Legality & Recreation
The sale and recreational use of marijuana became legal on New Year's Day, 2020, in Illinois. There are limitations placed on the amount of cannabis that can be purchased and on its cultivation. The cultivation of cannabis is limited to medical use, only. The use of cannabis in public spaces is illegal and users can face heavy fines.