Sale!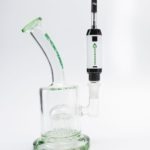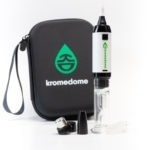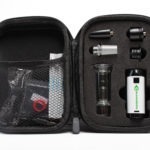 The Nomad
The Kromedome Nomad is a product like no other! This revolutionary device lives up to its name by offering some of the most versatile features on the market which include
Cartridge battery
Cartridge to rig
Portable Enail
Electronic Nectar Collector
Key Features:
Auto heating 

Portable size

USB charging cable 

Ceramic coil

Self-cleaning coil

Easy to take apart and clean

Spill-proof mouthpiece
In stock
Nomad is the BEST!!!
I really enjoy mine right when I opened it their was no complications on how to use it! It's also a 3 in 1 so you can use it as a vaporizer, net collector & enail which is sooo fantastic I love this device you should totally invest in one cause it gets the job done!!!
Amazing device!
Super convenient and pretty hard hits from such a small device. Doesn't really come with instructions but not too hard to figure out. Lil bit of work to keep all the separate pieces clean but not too bad. Pretty impressive battery life with nice auto shutoff feature when not in use. Good piece overall!
Great multi purpose device !
I bought it mainly for the nectar collector feature and it works great ! The E nail works well too but doesn't seem to get as hot as my Gpen connect . Have not tried the battery feature since I don't really care for the half gram vape carts here in illinois . Awesome product overall .
Krome dome
Best device ever totally worth the wait and money. 5 thumbs up 👍🏼 for sure.
Great product and customer service!!!!
I purchased a kromedome nomad and once it arrived to my house I definitely gave it a test drive! Well after 3 sessions my power button would stuck down. Well I sent an email to kromedome with the issue I received a very fast response asking about my order and the issue. Once I provided my order number next thing I knew the following day I received a email with a tracking number!? At first I was like hmm but I just received my nomad but obviously they sent me a replacement which was awesome!!! Tossed the original because button was stuck ON drained the battery. Tried the new nomad and it hasn't stopped working for me since!!! Lol amazing product and customer service as I mentioned in my title!!! Definitely recommend for your high times!